July 19th, 2008. Filed under:
Articles
Tags:
film
,
movie
,
review
In every generation, there have been those who exceed their peers in their craft. They are capable of conceiving and implementing their work with incomparable integrity in its time. In 2008, the creators and stars of The Dark Knight has triumphed in the craft of story telling.
I endured the bad commercials as I awaited the movie to start, I have seen every teaser and trailer the studios dished out. It is one thing to watch a movie you know will be good, it is another when it tops your expectations. By the time the ending credits roll in, my view of superhero movies has seen the dawn.
One CGI-riddled flick after another, Hollywood has churned out a generous array of comic book (graphic novels, if you will) and video game adaptations. But most of them can only evoke so much as a few thrills and some laughs from fans and critics alike. The Dark Knight explores the "what-if" of life and human nature, the mind of a fictional psychopath, and the definition of a hero.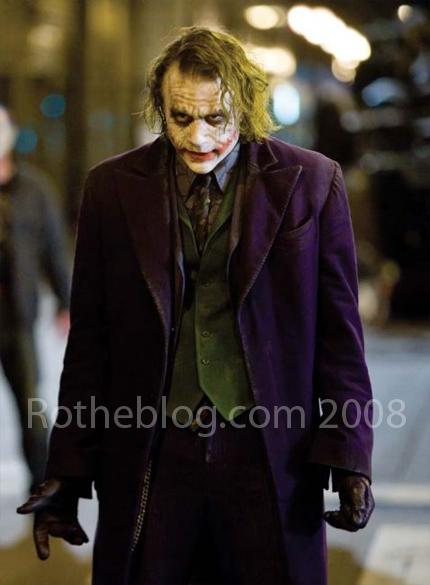 The Joker embodies a twisted outlook on humanity, how insane a thoughtful man can be. Aesthetics aside, he can really put together an organized plot to wreak some true havoc. With the more than remarkable performance of the late Heath Ledger, the Joker of the Dark Knight is one of the more frightening villains to grace the silver screen. Rest in peace, Mr. Ledger, you shall be honored as long as time will allow.
The very talented writers have brought us what being a hero is really about. Is it the abilities that one possesses? Is it the number of lives one can save? Or is it about the number of criminals put to justice? After the Dark Knight, I have set a rule of thumb, a measuring rod, a benchmark to determine the worth of what passes as superhero movies. How much is the so-called hero willing to sacrifice?
Other movies of its kind claim to tell stories of heroes. But most of them risk only their health or their costumes in order to win at the end. Batman has sacrificed something an ordinary man would not, resulting in an effect only some one of his unbreakable sense of justice would deem as victory. With this, most his fellow superheroes of both Marvel and DC fall to shame.
I can only hope that this movie will leave audiences asking themselves the things that matter. What would I have done in his stead? Could mankind stoop so low as to weigh the value of lives? Will I always be a bystander?
I can only hope.